Post by hpterin on Jul 7, 2009 21:18:44 GMT -5
Okay...what I'm about to relate is nothing short of fairly bizarre....
About a year or so ago my friend Juli and I took a trip down to Northfield, MN to check out the site of the Great Northfield Bank Raid. This is when the citizens of Northfield essentially fought back and won against the James Gang and the Younger Brothers. During the raid on that fateful day, (the 7th of September, 1876) the bank clerk was killed (Joseph Lee Heywood) as he refused to open the vault. The citizens of Northfield grabbed their guns and rushed to fight the robbers. At the end of it all, Nicholas Gustavson, a Swedish town resident, was killed, as were gang members Clell Miller and William Stiles. The pursuit of the gang went on for weeks and covered 400 miles, during which the gang split up and managed to get away.
The director of the museum there gave us a wonderful tour and even pulled out one of the strangest things I'd ever seen....the ear of Charlie Pitts! It was leathered and nailed onto a piece of wood. I took a picture of it because...well, because I just had to okay?! LOL!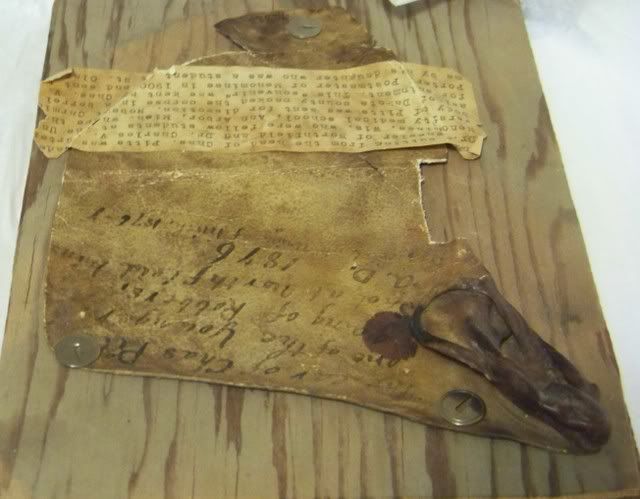 He also proceeded to tell us the strange story of the bones of Charlie Pitts. How, after he was killed by the Watonwan River in La Salle, MN, his body(since it was unclaimed) was sent to the surgeon general...minus an ear, of course, in St. Paul. Later, a young medical student, Dr.Henry F. Hoyt, went to the surgeon general and asked if he could have what was left of Charlie Pitts. He had wanted the skeleton for use in his medical office. He was given the bones and he wanted to whiten them so he put them in a box weighted down with rocks and sank them in the middle of Lake Como. (Is this bizarre enough yet?) The good doctor got a job in New Mexico and left the bones sunken in the lake for a year. Meanwhile, a young boy went out hunting for muskrat the next winter on the frozen lake. He noticed something that looked like a box underneath the ice so he cut a hole and sure enough, this box bobbed up to the top....can you imagine his surprise when he opened it up and Charlie's skull rolled out?! This poor kid, thinking there was a murderer running around ran to the sheriff who got the coroner and they all ran out to Lake Como in the winter of 1878. They discovered that this skeleton had evidence of five shots in it and thought for sure there was some sort of evil murderer on the loose. The "crime" went unsolved until the newspapers demanded some sort of police action to quiet the resident's fears. A friend of Dr. Hoyt's happened to send him one of the articles from the newspaper and he had to come back to Minnesota and claim the bones.
Now...for years...well, ever since we moved to Minnesota in the 90's I had wanted to learn more about the Northfield Raid so that trip to the bank site and the museum were like a dream come true...but my curiosity had really kicked in. I had made up my mind to eventually get the place where the Younger Brothers were captured and where Charlie Pitts was actually killed. It's about three hours away from where I live and I don't really drive so talking my husband into making a trip for just that reason I thought wouldn't work so I had just put it off in the back of my mind figuring that some day....
Well, that day came today! Yay! He just so happened to have to make a trip to St. James, MN to make a bid on a house there. (He does Victorian Era Restoration and such) Gee, I thought, isn't that near Madelia, where the site of the capture is near? Hmmm...why yes! It is indeed! "Sure...I'll ride along with you honey...do you think we could make a short stop?

" heh, heh! So...we took our granddaughter along as she's over here for the days when her momma is working, and I figured it would be educational for her! First I discovered that what is known as "The battle of Hanska Slough" (which is what the capture is referred to as) is not exactly in Hanska, MN. It's actually in La Salle, MN and not by a slough at all but the Watonwan River. Eventually we found it, after having lunch at the park in Hanska and playing on the playground there. We got out and read the markers....it didn't seem like such a "special" place...hayfield and trees...the river must have been much fuller back then in the day as you could have walked across it with no problem at all as it was probably a foot deep at it's deepest in that spot. I looked at the trees and figured out which were most likely around on September 21st of 1876 and just sort of walked the tree line. Felt a little lightheaded and nauseous at one point but that was about it. I brought my recorder along and asked some questions. I haven't listened to it yet. Oddly enough, one of the pictures I took does seem to have a face in it with the area around it a bit distorted....and...it does look a little like Charlie Pitts.....but I have a really good imagination as well.
Now...for my horrid curiosity, there is only one place left to visit for this particular "crime"...and that is the Old Prison in Stillwater, MN where the Younger Brothers were sent to do their time. I think that can wait a bit!